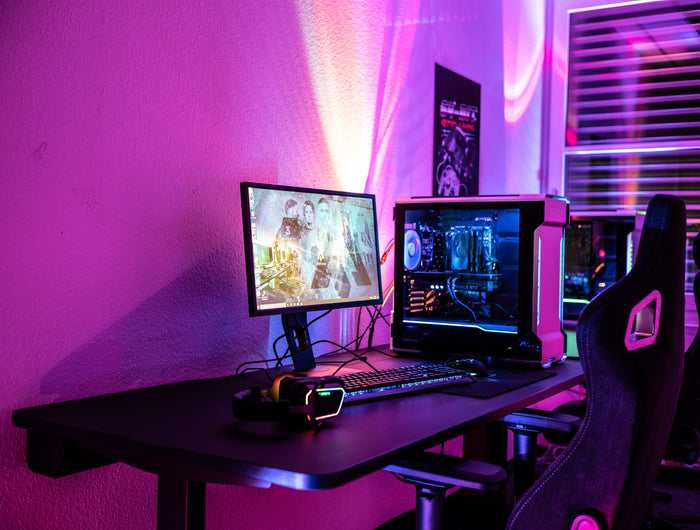 Frequently Asked Questions
The quickest answer to your questions can be found below.
Order & Delivery
how can I place an order?

Place your products in your digital shopping cart via the green button with the text: in my shopping cart . If you place the order with your Game Hero account, this will go even faster, because we already know you.


Would you rather speak to an employee? Then please contact our customer service.
What are the shipping costs?

With us, the shipping costs are always free in the Netherlands and Belgium.
How do I cancel my order?

You can only cancel if your order has not yet left our warehouse. Has your order already been shipped? Then you can refuse it at the door or return it via this online return form .
How do I change my delivery address?

Delivery address of a current order
Once you have placed your order, you can no longer change the delivery address of that order.

Therefore, please contact our customer service to change your address. We will then do our best to change the delivery address. It may happen that we can no longer change the delivery address if your package is already too far in the delivery process. In the latter case, it is best to contact the residents of the incorrect address to find a solution.

Feel free to contact our customer service if this problem occurs and we will do everything we can to help you.
What happens to my order if I am not at home during delivery?

A package shipment will be offered again the next day. The deliverer can also choose to deliver the product to the neighbours. If the neighbors are not at home, the package can also be delivered to a parcel point.
Will I receive a Track & Trace code for my order?

We almost always provide our customers with a Track & Trace code. In most cases you will receive the code in your email 1 or 2 days before delivery.
The Track & Trace does not indicate any information, how is that possible?

The Track & Trace information is available from the moment your package has arrived at the mail order company. Please note that there may be some delay.
Do you also deliver to a floor / upstairs apartment?

Our carrier delivers the order to the threshold of the (first) front door. If your address is a flat, your order will be delivered downstairs at the porch. The driver himself estimates how close he can get to the front door.
What should I do if the order has not been delivered in full?

If the order has not been delivered completely, please contact customer service.
I am not satisfied with my order, can I return it?

If you are not satisfied with the items you ordered, you have the option to return them FREE of charge within 30 days of receipt via this form . Please check whether all fields are filled in correctly. If this form is not fully completed, we cannot process the return request.

To be eligible for a refund or exchange, the returned product must be in its original condition. The product must not contain any traces of use. We reserve the right to refuse returned items if it is suspected that the items have already been used or have been damaged through no fault of our own.

A return shipment must be provided with a track & trace code. You will receive this from us after we have checked the completed form. The sender is always responsible for the shipment.
Pay
Does Game Hero have a secure payment environment?

Yes! As soon as you start paying, you enter a secure internet environment. Your transaction data is sent encrypted via an SSL connection. You can recognize a secure SSL connection by the gray lock in your browser.
Does Game Hero offer postpay?

We offer payment afterwards via Klarna.

Shop today and enjoy your new acquisition right away. If you are immediately satisfied, you pay in the app. Not immediately satisfied? Try it a little longer. You pay for the purchase up to and including 30 days later. No interest. No extra costs . Well smoooth.
Is returning my product free of charge?

Unfortunately, returning products is not free. Exchanging products is free.
How soon will I be refunded after returning?

Once we have processed your return, we will refund you within 1-3 business days. How quickly you have the money in your account depends on your payment method.
Where can I find my invoice?

Please contact our customer service, they will provide you with your invoice.
Which payment methods does Game Hero accept?

You can pay online with iDEAL, Bancontact, SEPA, credit card (Visa, Mastercard, AMEX), Paypal, Klarna, Google Pay, Apple Pay, Sofort and the Game Hero gift card.
Do the prices mentioned on the website include VAT?

The prices mentioned on our website include VAT.
How do I pay as a business Belgian customer?

We supply products to entrepreneurs in Belgium where VAT has been shifted according to European legislation. Unfortunately, it is not possible to transfer the VAT at check-out via our webshop.

Therefore, please contact our customer service and state your company number that starts with BE . We will then provide you with an invoice with VAT reversed ( 0% VAT ). After payment we will deliver your products as soon as possible.
Other questions
Can I become a business customer?

This is certainly possible. We are happy to refer you to our customer service . Here we can tell you all about the possibilities.
What is Game Hero's Chamber of Commerce and VAT number?

Game Hero BV

Chamber of Commerce: 82926131
VAT: NL862657489B01
I want to know more about a product, what can I do?

Contact one of our product experts. We are happy to help you make the right choice.
Where can I find information about the stock of products on the website?

The stock of a product can be found on the product page. Can't find it here? Then contact our customer service.